The little Elephant twins in this painting have a special talent; they bring smiles and happiness into a gray world. Wouldn't it be nice to hear what these two are Whispering to each other? Maybe they're figuring out a way to save the world from boredom. Maybe they have a really good knock-knock joke. Either way, their appearance here in this gray landscape is a nice surprise.
"Whisper" Click to enlarge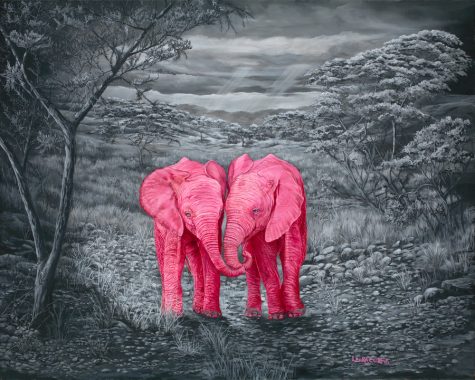 Whisper
I'll tell you a secret, if we were to see them standing there just a bit longer you would see the earth turn golden brown under their feet and the sun would shine through the evening clouds casting a golden highlight on the green Acacia trees dotting the landscape.
It's pretty easy to get lost in a Black and White world and a little pink elephant or two once in a while isn't such a bad idea.
What do you think of my latest painting? Please tell me below…